HoopsKing Vertical Jump Trainer Resistance Bands
SKU:

HK-VJ-BANDS
Bulk discount rates
Below are the available bulk discount rates for each individual item when you purchase a certain amount
| | |
| --- | --- |
| Buy 10 - 9999 | and get $5.00 off |
Frequently bought together:
Description
How to Jump Higher & Blast Through Plateaus to Get the Inches You Need to Dunk a Basketball or Spike the Volleyball w/ a Vertical Jump Trainer
Without Changing Your Training Program...
---
Easily add resistance to your jumping drills to build stronger & more powerful muscles that will help you jump higher without changing your program.
The Vertical Jump Trainer Resistance Bands take up minimial space & can easily be thrown in a bag and taken anywhere to do workouts - at home or in the gym.
Add the bands to your weight training excercises to bust through plateaus & get even bigger gains in your vertical jump training.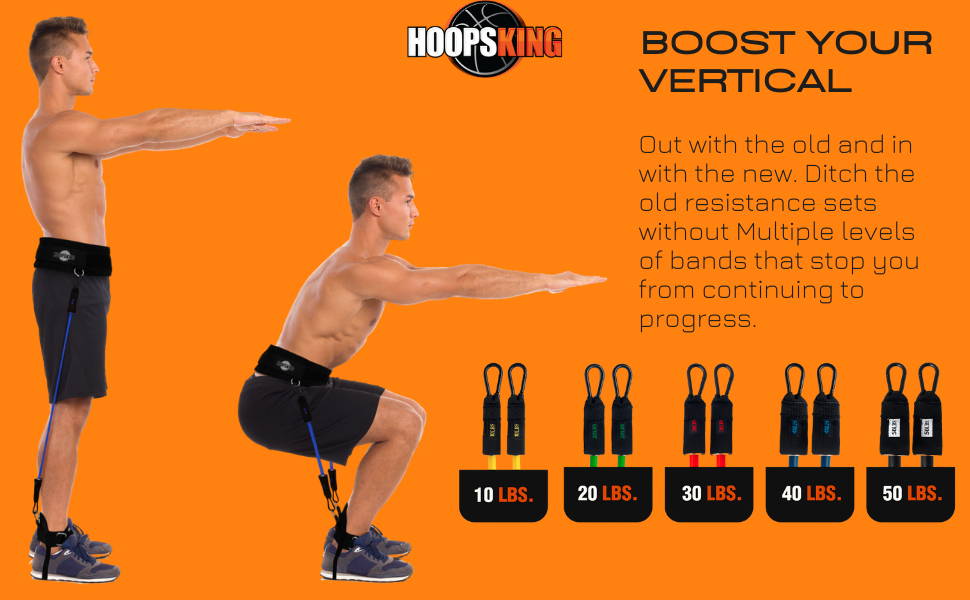 ---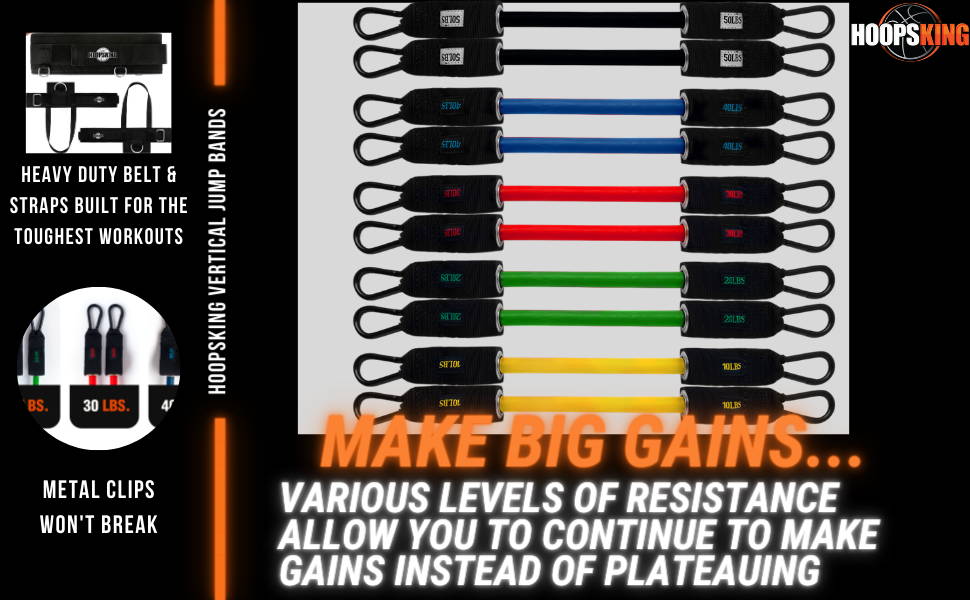 ---
MVP Vertical Jump Trainer Pro Resistance Bands
These Jump Trainer resistance bands go from your waist to your heels with the ankle straps. The Pro Jump Trainer bands come with 200 lbs of resistance when you put all four bands on at the same time.
These bands are not as effective for someone under 5'6" because they won't engage right away and there will be some slack at the start of a movement.
You can keep the Pro Trainer bands on during your entire workout as they are comfortable since they are worn around the waist.
---
How do Vertical Jump Trainer Resistance Bands Work?
Improving your Vertical Leap and jumping higher with vertical jump trainer resistance bands is simple. They provide resistance as you jump. Resistance means that your muscles are going to have to do more work to overcome the resistance therefore your muscles become stronger and can produce more force. The more force your muscles produce the higher you will be able to jump.
Isn't Body Weight Enough?
No. Body Weight exercises will only take you so far. At some point (sooner than later) you will hit a vertical jump plateau with body weight exercises because the amount of resistance is limited (your body) and you will stop making gains. What do you do then? You have to add resistance somehow to overload your muscles so that they can produce more force.
With our vertical jump resistance bands you can easily add various levels of resistance so you can continue to make gains overloading your muscles and developing fast twitch muscle fibers that will help you jump higher.
Think of Jumping with body-weight only the same as push ups. Pushups become more of an endurance exercise instead of a strength and explosiveness exercise. Pushups will tone and strengthen to a point but once you peak how do you get stronger? You have to add resistance exercises or you won't get stronger and produce more force. That's where the MVP Vertical Jump Trainer comes in.
---
Resistance Bands Work with ANY Vertical Jump Program
You can use our vertical jump resistance bands with any program you want. Simply wear the bands while doing jumping exercises to add resistance. It's that simple to get bigger results from your vertical jump program.
---
VeRT MAX Training
The Next Level of Vertical Jump Training
Train Like the Pros & Blow Through Plateaus
VeRT Max Jump Training is the next level in vertical jump training. When you are ready to train like the Pros this is for you. VeRT MAX training aka Linear Variable Resistance (Scientific Name) will help you Max Out your Vertical Jump Potential. How does that happen?
By combining our Vertical Jump Trainer Bands with weight training - yes at the same time - you are going to build more fast twitch muscle fibers which are crucial to jumping higher. Here's how it works:
Let's look at the Squat and VeRT MAX Training.
Performing a Squat is hardest at the bottom of the movement. When the weights are at the top of the movement they are easy to lift.
It's the exact opposite of the resistance bands. At the bottom the bands have the least resistance. As you move up in the Squat the bands stretch providing more resistance as you finish the Squat.
So when doing the squat the bands are kicking in the maximum resistance level as the weights are getting easier. This means that you are using more muscle fibers throughout the ENTIRE movement and the ENTIRE movement is more productive to help your muscles produce more force to jump higher.
Seriously You Have Nothing to Lose
Coach Chris' 100% Guarantee
Try the jump trainer resistance bands for 60 days and if you aren't happy with the results return them for a refund.
What Our Customers Say...
View All
Close