Basketball Training Tips
Basketball Training Drills
Basketball Training Programs
Basketball Training Videos
Basketball Training Quotes
Effective basketball training is essential for all players. When it comes to basketball training, you want to be focused on quality workouts. The best way to maximize your workouts is to know how to elevate your game to the next level. Here are 10 basketball training tips to use as you're working on your game.
Talk to your coach about what you need to improve. Before you start training, ask your coach if they'll spend a few minutes with you sharing their thoughts on your game. Ask them to be honest with you and to provide feedback on your strengths and weaknesses. Be ready to listen and accept criticism when you have this conversation. It won't be easy to hear what you need to work on, but it will pay off when you know exactly where to focus on improvement.


Always have a workout plan. There is nothing more important than having a plan of what you want to accomplish every time you step in the gym. This requires you understand what areas of your game you should be focusing on when you're heading into your workout. By having a plan, it will allow you to stick to a schedule and be efficient.


Treat your workouts like appointments. Would you ever miss a doctor's appointment? No. This is why you should schedule and treat you workouts like you treat other important appointments. Because lets be honest, if you don't schedule them, they probably won't happen. Schedule your basketball workouts into your calendar at the start of the week and then hold yourself accountable to going to them.


Shooting is the most important skill in basketball. Hands down, shooting is the #1 skill you should work on to showcase your basketball game. When you're in the gym, a lot of your workout time must be spent developing your ability to shoot the basketball - - learn the correct form, perfect it, and spend time going through shooting drill after shooting drill. In the type of basketball that is being played today, it's hard to get minutes on the court at higher levels if you can't consistently knock down an open shot.


Keep a shooting log. Great shooters meticulously track their makes and misses when working on their shooting. It's an absolute must if a player plans on improving their shot. Make sure your shooting log is detailed and updated after every workout.


Practice your skills under game-like conditions. The main reason to add conditioning to your workouts is that it ensures you'll be practicing under game-like conditions. During games you're going to be sprinting up and down the court multiple times before attempting to shoot. It's crucial to practice under these conditions so that you're comfortable executing your skills when faced with these conditions during actual games.


If you have a shooting machine, use it. There is absolutely no question that a basketball shooting machine can help you become a better player. A basketball shooting machine will significantly increase the number of shots a player can take in a short amount of time. Ever heard of the iC3 Rebounder?


Get in the weight room. Weight training does help players on the basketball court. Getting stronger will allow a player to pull down more rebounds, fight better for position, nudge off opponents, among many other benefits. Not to mention, the body will also be more resistant to injuries.


Upgrade your eating habits. One of the best things you can do to give yourself an edge over your opponent is to focus on what you're putting into your body. Making even small changes to your diet such as limiting your intake of fast foods and drinking soda will give you an advantage.


Study basketball games. A great way to learn and improve is by watching basketball games with the intention of learning. Everyone loves to watch Steph Curry and Lebron James, but make sure you're paying attention to the details of their game so you can apply it to your own.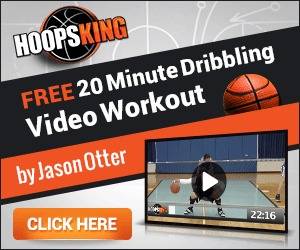 Basketball Training Basics
Now that you know some basketball training tips, the next step is going over the basics for the area you want to work on. Before you begin training drills and programs, you need to make sure you know the basics and are learning the fundamentals correctly. The articles below cover different areas of the game so find the area you want to learn about and read on to confirm you're executing the fundamentals correctly and what type of training equipment or videos are recommended for that specific basketball movement.
How to Shoot the Basketball : Learn the Basics to Become a Great Shooter
Shooting is the single most crucial skill in basketball. If you can shoot and put the ball through the hoop, there's undoubtedly a spot for you on the court. Shooters bring so much to the table - even if they never take a shot. They cause major dilemmas for the other team - not just because they can score but because they have to constantly know where the shooter is on the floor. In this article, we breakdown the art of shooting in basketball. We cover the basics such as correct form along with shooting drills to work on your shot, and recommendations for shooting aids to even further improve your shot.
Ready to lead your team in Assists? Become an Elite Passer!
For a basketball player to have excellent passing skills makes their game even more unstoppable. Why? Because now defenders not only have to worry about you but also your ability to set up your teammates to score. Passing can be a lost art in today's game, but basketball is still a team sport - and because of this passing is a crucial part to winning. This article covers the basics such as the fundamental passes all players use, how to get better at passing and to the pro level of passing, and some drills and products you can use to continue improving your passing game.
Want to dribble the basketball like Steph Curry? Follow these steps and make it happen!
When a basketball player can dribble the basketball really well it makes them stand out on the basketball court. They aren't necessarily using fancy dribble moves, but they are dribbling with confidence, using smart dribbles to get by their defender, and taking care of the ball by not turning it over. In this article, we cover the basics for you to get started improving your game which includes: the correct dribbling technique, the best dribbling moves to master, the drills to execute repeatedly, and some of the game's top players to study.
Learn How to be a Top Point Guard from Basketball Guru Jason Otter
One of the most important positions on any basketball team is the point guard. A point guard can make or break a team with their ability to take care of the ball, getting their teammates open shots, or being a scoring threat themselves. If you're wanting to play the point guard position then you have to know what to work on and Jason Otter's Point Guard Elite Series is here to guide you every step of the way.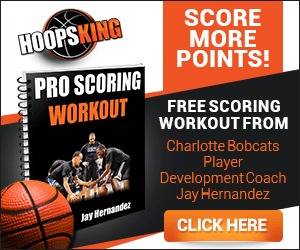 Basketball Training Equipment
Having the right Basketball Training Equipment will make all the difference and help you become a better basketball player. As an individual or as a team, you want to make sure you're not only working hard when you're training, but also working smart. You want to maximize your training time and accelerate your development - and to make both happen you will need to right training equipment. Below is a list of the top basketball training equipment on the market today.
iC3 Basketball Rebounder
The iC3 Basketball Rebounder will help you become the best shooter on your team. It allows you to get up more shots during a workout which will translate into an increase in your shooting percentage and develop muscle memory for the perfect form each time. Instead of wasting time chasing basketballs, spend your time focused on getting more shots up.
Basketball Dribble Goggles
HoopsKing Basketball Dribble Goggles help develop good fundamentals in basketball dribbling by forcing players to dribble without looking at the ball. Having player's heads up allows them to watch opponents and make better passing, shooting, and dribbling decisions. The Dribble Goggles will not interfere in shooting the basketball, but will create greater ball control, increased court awareness, improved reaction time, and increased confidence and focus with the basketball.
Wrap Strap
The Wrap Strap is one of the rare aids where you become a more consistent shooter the second you put it on. The Wrap Strap attaches to your non-dominant arm/thumb and prevents it from being involved in your shot, or where you have rotation of wrist/thumb. This basketball training equipment is designed to keep your thumb and wrist "Quiet" on your shot, or keeping them from internally rotating on your shot.
Defender Extender™ Basketball Training Pads
The Defender Extender sticks allow a coach, trainer, or partner to simulate a much taller player than you would normally play against. As you move up levels in basketball, from junior high to high school, high school to college, college to the pros, your competition will get taller, longer, and more athletic.
Bulls Eye Basketball Shooting Aid
The Bulls Eye Basketball Shooting Aid is the #1 tool for quickly developing perfect shooting form. Bulls Eye shooting aid will speed up the process by putting your shooting arm in the correct shooting position every time. In just a few workouts you'll be able to see an improvement on your shot and most importantly in your confidence to shoot the ball.
The Big Cone
The Big Cone (TM) is a pop-up cone training device that gives players a more realistic obstacle than your typical sports cones. You cannot step over or go through The Big Cone (TM) when doing dribbling drills like you can with your traditional cone. Unlike chairs the Big Cone is easily transportable as it collapses making it easy to carry around with you. The Big cone is safe when contacted and comes with a small bag that can be fastened inside the cone to place sand or small weights to keep the cone in place.
P.R.O. Bands (Progressive Resistance Overload)
The P.R.O. Bands are resistance training bands that can help you in three main ways: gain explosiveness by adding these bands to basketball movements, building strength by using these bands for upper and lower body exercises, and flexibility when used for stretching. And the other added bonus is you can use the P.R.O Bands right on the court without the need for a weight room or a bunch of equipment.
Basketball Toughness Training Pad
HoopsKing Basketball Toughness Training Pad is a light weight pad worn on the forearm that allows coaches, trainers, and players to easily add contact to drills. Unlike big, blocky pads, this basketball training equipment is light enough to run up and down the court with. You can use the Basketball Toughness Training Pad in a number of ways such as finishing moves by adding contact at the rim, rebounding by using the pad to make the player be strong with the ball and land on balance, and shooting by holding up the pad to make shooters work at shooting over their defender.
Basketball shooting aids can help a player overcome shooting woes quicker than normal. Shooting aids function by helping the player develop new muscle memory in their shot the fixes a specific problem.
For example. the off or guide hand often interefers in a player's shot. The Smooth Shooter, Perfect Jump Shot Strap, & Wrap Strap will help a player from getting their off hand involved in their shot which means they'll miss more shots.
Basketball Defensive Mannequin
The Basketball Defensive Mannequin is a great basketball defensive training aid that allows you to practice vs. a defender when you are practicing alone. This basketball training equipment is terrific for learning to shoot over a defender. Players will learn how much space they need to get their shot off and will also be able to adjust the arc on their shot to shoot over a defender. You can use the defensive mannequin to shoot 3 pointers over all the way down into the post and it adjusts in size so you can use him no matter what your age is.
Jump 99 Strength Weighted Vest
The Jump 99 Strength Weighted Vest has individual inner pockets that contain powder coated, lead weights to help develop specific muscle groups. This training vest will enhance and increase speed, quickness, and strength. The detachable sleeves and lower section make the vest versatile for a range of sports and training regimens.


If you want to train at an elite level, you need to set yourself up and find the right training equipment for the area of your game you want to work on. To see even more basketball training equipment, be sure to check out HoopsKing Training Equipment.
Basketball Training Drills
Basketball Training Programs
MVP Vertical Jump Pro System
The
MVP Vertical Jump Pro System
is the most comprehensive vertical jump program on the market. It's a 12 Week Explosive Vertical Jump Program put together by Professiona Strength & Conditioning Coach Alan Stein. Coach Stein has trained High School, College, & Pro players including Kevin Durant. MVP is 3 times a week, around 30 minutes per workout is all you need to reach your Maximum Vertical Potential. Most athletes using the MVP Vertical Jump Pro System will start to see small results beginning around weeks 3-4 and the most results in weeks 9-12. To learn more about this basketball training program, check out our
Vertical Jump Guide
.
Basketball Training Videos
Our basketball training videos feature the best of the best. We have the best basketball trainers in the world with our Advanced Basketball Training Systems. Trainers like Ganon Baker, Jason Otter, Alan Stein, & Jay Hernandez. All of these players have trained major NBA players and tons of high school and college athletes.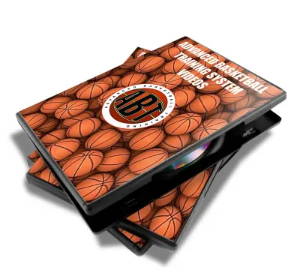 Take your game to another level and use the Advanced Basketball Training System to help you get there. You get to have the best basketball trainers in the world right in your own home!
---
Shooting
Dribbling
Passing
Rebounding
Defense
Offense
Using basketball training videos as a player or coach can change your entire game. You will see how the best coaches teach the game, how they talk to players, how they drill, and you can take their knowledge and apply it to the court right away wherever you play or coach.
HoopsKing has an huge collection of training videos - you can check out Basketball Training Videos for purchase or Basketball Training Videos for rent. Start using our basketball training videos today and expand your knowledge and skill after the first viewing.

Basketball Training Quotes
We have provided you with tons of resources to tackle all types of basketball training, but when it comes to becoming a better athlete another key factor is MOTIVATION.
Motivation is the ability to initiate and persist at a task. To perform your best, you must want to begin the process of developing and you must be willing to keep working on your progress until you have achieved your goals. Motivation is vital to athletes because you have to be ready to work hard even when you're busy, tired, and everything else that can pop up throughout a day to deter you from getting better.
Motivation is the foundation of all athletic effort and accomplishment. If you don't have the desire and determination to improve your athletic skills and performance then all of the information we have given you will do no good.
To help you stay MOTIVATED, surround yourself with these quotes from some of the best basketball players. Read more Basketball Quotes here.
"I've always believed that if you put in the work, the results will come." - Michael Jordan
"You don't play against opponents, you play against the game of basketball." - Bobby Knight
"There are only two options regarding commitment; you're either in or you're out." - Pat Riley
"Don't practice until you get it right. Practice until you can't get it wrong."
Motivation is the key to becoming a better athlete and it's the only contributor to sports perfomance you have control over. What separates successful athletes from the others is they stay motivated even when the training gets hard and they want to give up. Stay motivated!
Recent Posts
Picture this: a young basketball player takes the court, eager to showcase their skills. Th …

If we try to analyze the basketball from the pure athletic standpoint, the conclusion that …

Installing an in-ground basketball hoop is a great investment for parents of young basketba …