Everybody likes to watch the Clippers. The team that nobody thought of as a contender for a playoff spot are playing some good basketball. Tonight thay took a W over Wizards 104 - 136 and are currently holding a 5 - 2 reccord.
From the coaching standpoint, this bad pick and roll play caught my eye because it will show us all the wrong things from which we can learn from:
Here we see Gortat making a screen for Harris. The first thing that caught my eye was the position of both players guarding them: Potter Jr. seems to forgot Tobias a bit and Mahinmi is way to low on the free throw line.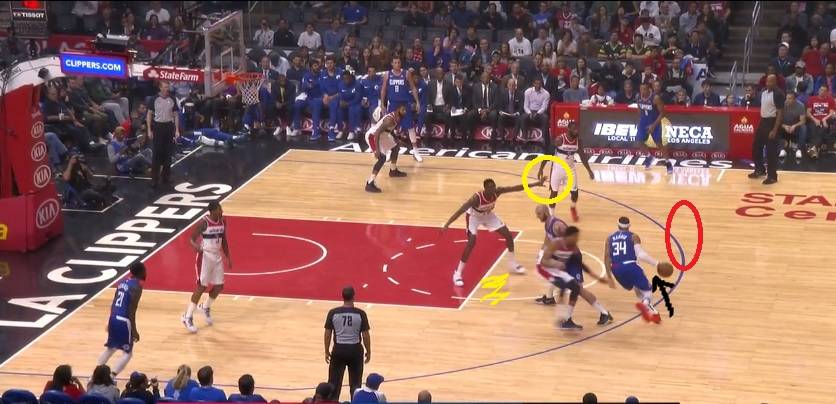 As the action went on, and Harris went around the screen, I thought he was going to take an open shot from the Red Circle Area, because Mahinmi decided to protect the penetration line and not go hard hedge. If we take a closer look, the whole area between the free throw line and 3 pt line is free for taking a shot.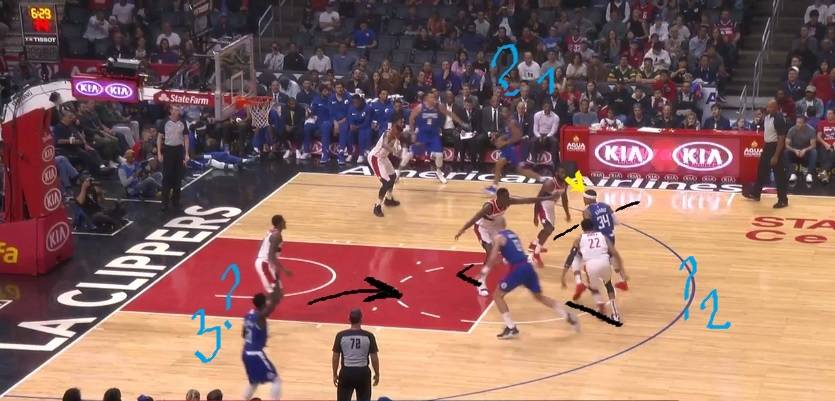 In the next sequence of events, more mistakes comming our way. Harris continues to drive towards the rim even though John Wall have decided to attack the ball which ultimately took him into the 3 man trap (Black triangle). If we take a look at Clippers offense i have three observations:
Player No 1: He continues to run towards the corner instead of staying on the 45° spot. This way Wizards player guarding Gallinari can cover both of them...and it should be another way around. If he climbed up towards the center, he would open a passing lane for Tobias, and we would have a 2 on 1 situation on the right side of the court.
Player No 2: Why Harris didn`t took a mid-range shot or a three
Player No 3: Why is this player still in the corner and not on the 45° spot to open a passing lane for an open shot or to pass the ball on the low post where the guard would stay with the center and it would be a miss match.
The action ended with John Wall stealing the ball.
If you want to learn more about pick and roll action, go to Hoopsking by clicking on the link below:

Recent Posts
As a basketball coach, it's essential to be aware of the best basketball dribbling drills t …

For those suffering from Parkinson's Disease, tremors can be a difficult symptom to manage …

Basketball size is an important factor in a player's development and it can make all the d …