Jumpsoles v5.0 (Free Shipping) | Plyometric Training Shoes
SKU:

TE-0040-MED
Frequently bought together:
Description
Take Your Vertical Jump, Speed, & Quickness Training to Another Level w/ Jumpsoles...and ANOTHER Level by Adding
Proprioceptors
---
Jumpsoles to Increase Vertical Jump, Speed, & Quickness
Jumpsole Shoes are the world's most popular basketball training equipment for increasing your vertical jump. Jumpsoles are plyometric platforms that attach to your shoes. Jumpsoles focus your body weight onto your calves and train you to spring off the balls of your feet like a powerful cat. By doing the special plyometric exercises in the video you develop fast twitch muscle fibers in your legs for explosive leaping improvement. Used by slam dunk contest winners and top pro & college teams, Jumpsoles are guaranteed to boost your vertical jump or your money back. (individual results may vary).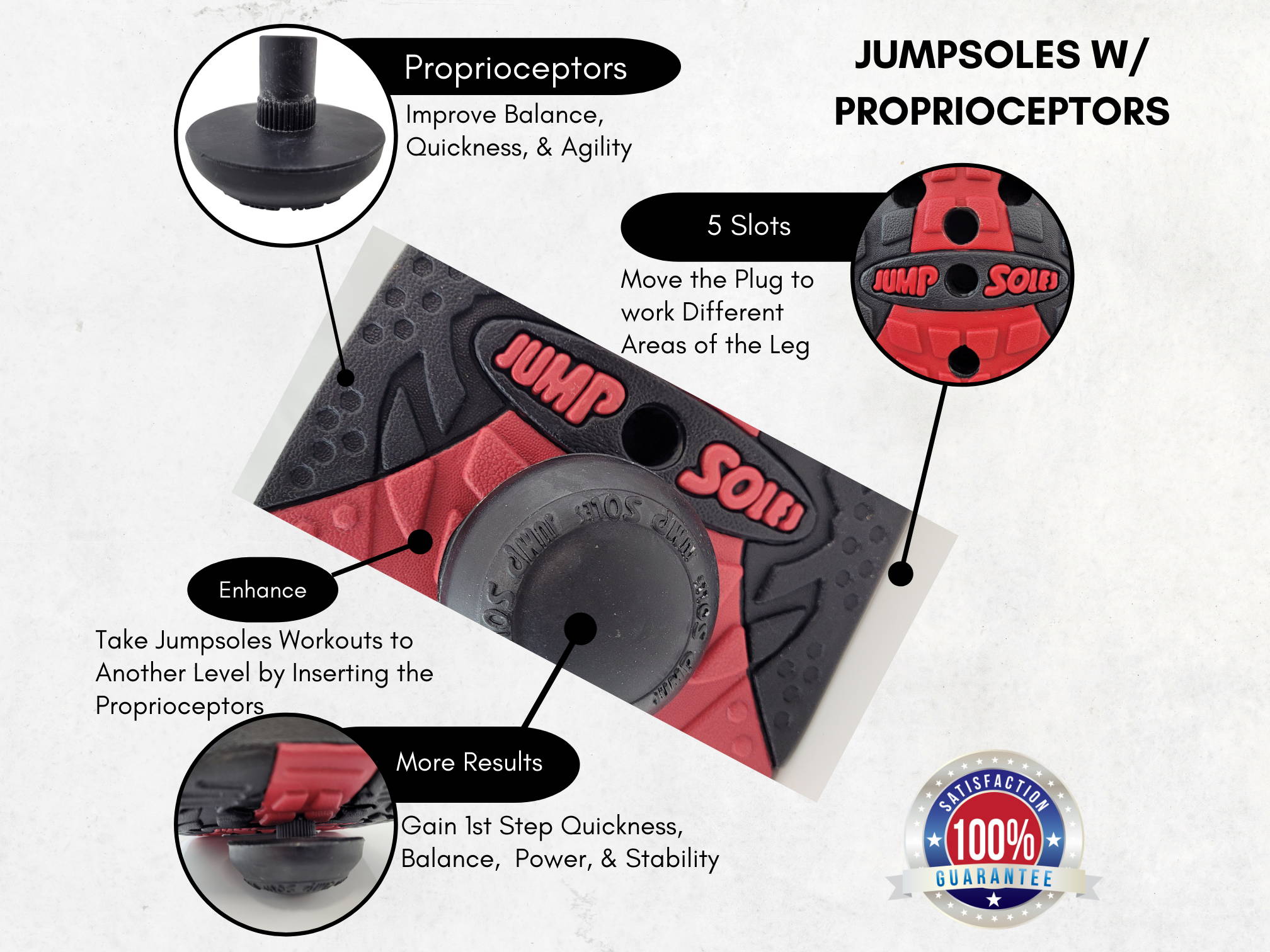 Jumpsoles Sizing Options Available:
Small: Mens 5-7 (Womens 7-9)
Medium: Mens 8-10 (Womens 10-12)
Large: Mens 11-14
XLarge: Mens 15-20

NOTE: If you are between Jumpsoles sizes, always go UP in size, not down. (ie; You wear a 10.5 shoe? You should order Large Jumpsoles, not Medium.)
Pre-Owned Jumpsoles
If we have pre-owned Jumpsoles in stock you will see those at a discounted price in our drop down menu. Pre-owned will be used but in good condition and fully functional. You might see scratches, scrapes, etc but they will function just like new Jumpsoles. You will be emailed your training materials after placing an order for pre-owned Jumpsoles so be sure to check your email for those. Pre-Owned Jumpsoles are non-returnable.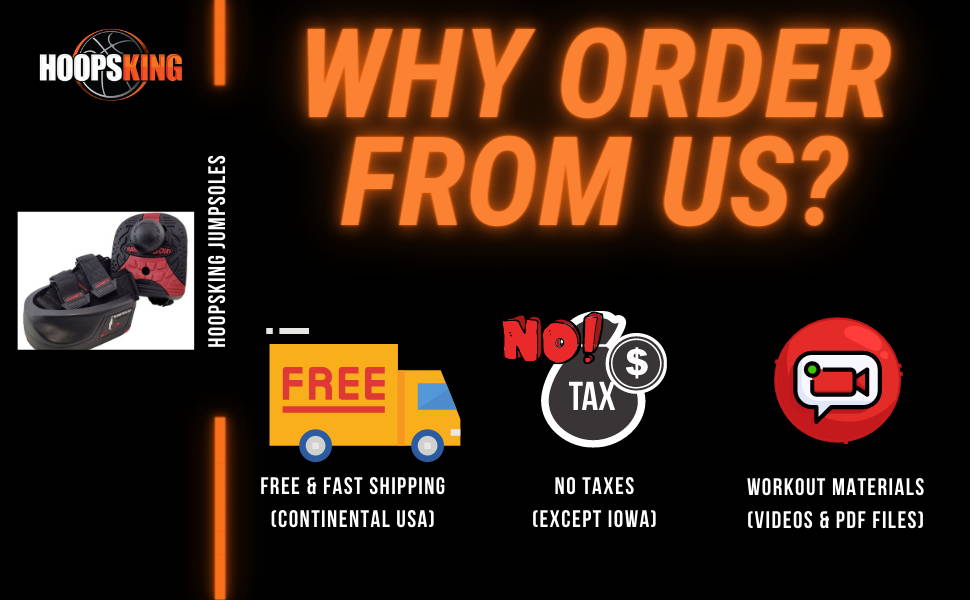 ---
Buy Jumpsoles Now...Pay Later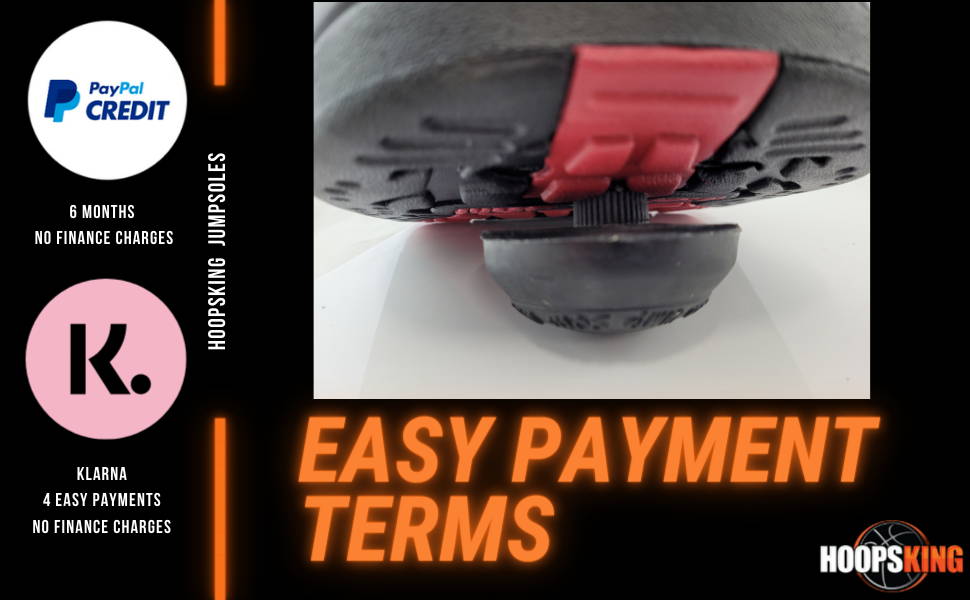 ---
Just Add Jumpsoles to Your Shoes & Start Training...Follow the Program to Big Gains in Speed, Quickness, & Vertical Leap
Jumpsoles Testimonials & Reviews
I'm week 5 of the Jumpsoles program and i can already throw it down with 2 hands!!!!! (that's from not being able to dunk at all b4) and i can do it with authority!! thanks heaps!!
- Lindsay H.
Jumpsoles are fantastic, the order got here quick. My son is in his 5th week of workouts and I can already see significant improvements in his jumping ability and explosiveness. Would recommend them to any athlete that wants to take their game to the next level.
- Nick Alexander
My son has been using the jumpsoles for the last three years and has been the National AAU highjump champ in his age group the last two years.
- Tony Politt
Increase your vertical jump by ordering your Jumpsoles today.
Jumpsoles Shoe Workout
The Jumpsoles Shoes workout is included with your order. You will have access to videos and a workout booklet is included in the box. Use the included Jumpsoles workout as a base to start at and then you can adapt the workouts as you see needed.
What the Difference Between Jumpsoles & Jump 99 Shoes?
The Jumpsoles are basically the platform that you add to your exisiting shoe. The Jump 99 Shoes are a complete shoe with the platform. Both shoes have similar training programs and both will help you achieve your goals.
What do JUMPSOLES do?
JUMPSOLES are designed to increase your vertical jump by strengthening your legs and improving your explosive power. They also improve your overall athletic performance and speed.
Do plyometrics shoes work?
Plyometric shoes are designed to enhance your plyometric exercises by providing cushioning and support to your feet. They can be effective in improving your performance but may not work for everyone.
Do vertical jump trainers work?
Vertical jump trainers are designed to increase your vertical jump by improving your leg strength, explosiveness, and technique. They can be effective in improving your jump height and overall athletic performance.
How do you use JUMPSOLES?
JUMPSOLES should be used during plyometric exercises such as jumping, skipping, and hopping drills. They should be worn during your training sessions for 10-15 minutes at a time and gradually increase the duration and intensity of your workouts.
What are the negatives of plyo?
Plyometric exercises can be high-impact and put a lot of stress on your joints, especially if done incorrectly or without proper warm-up and cool-down. Overdoing plyometric exercises can lead to injury and burnout.
Is it okay to do plyometrics everyday?
No, it is not recommended to do plyometric exercises every day. Your body needs time to recover and repair from the high-impact nature of these exercises. It is recommended to incorporate plyometrics into your training routine 2-3 times per week with rest days in between.
View All
Close