Custom Football Rolling Magnetic Whiteboard w/ Stand
SKU:

FB-ROLLING
Frequently bought together:
Description
Take Your Football Locker Room to the Pro Level w/ a Custom Mobile Coaching Whiteboard...
Design in Minutes Now!
Just click the red Personalize Now button to start designing your custom mobile football whiteboard now.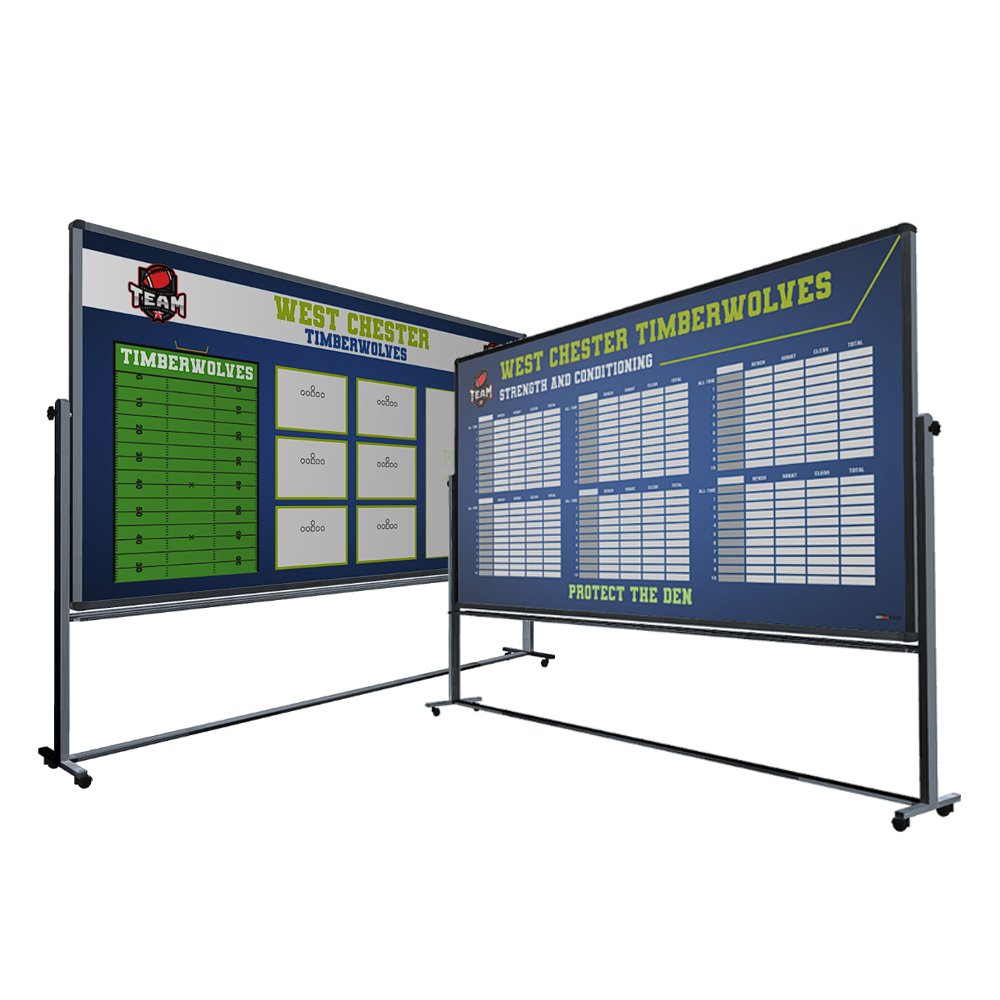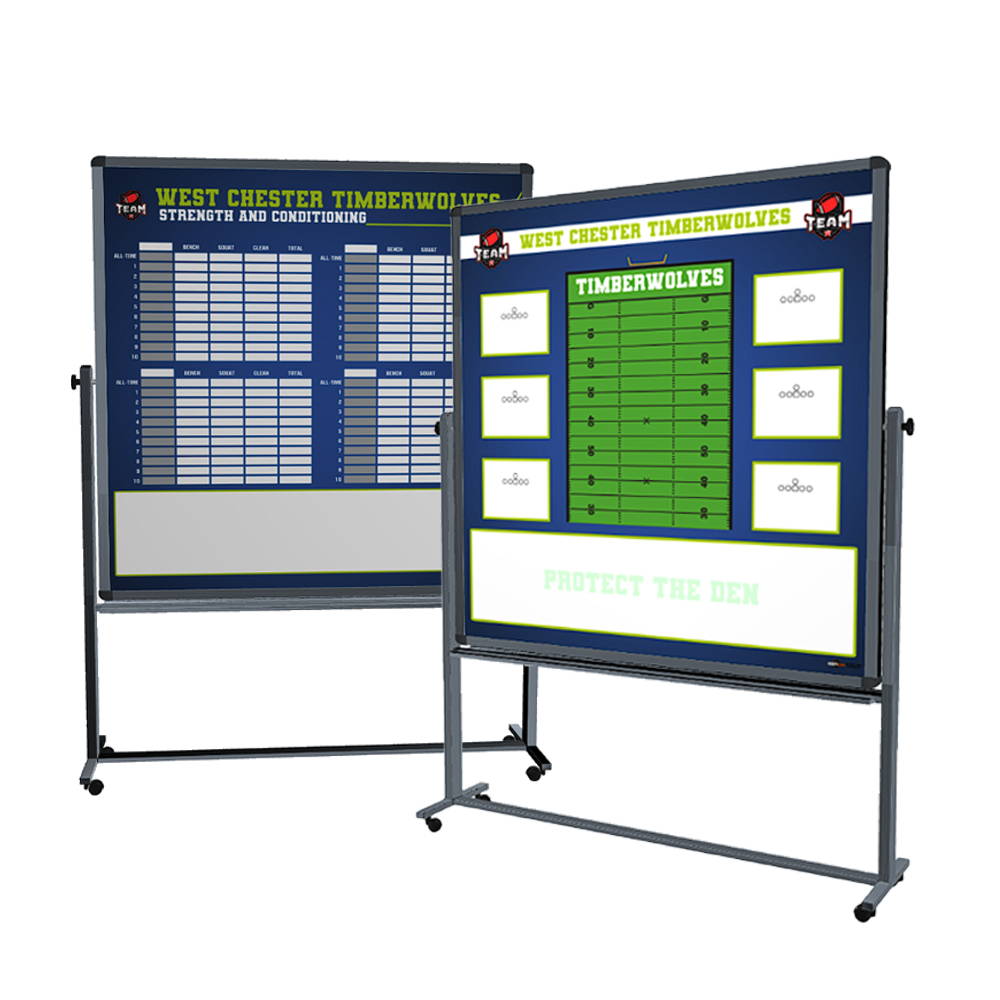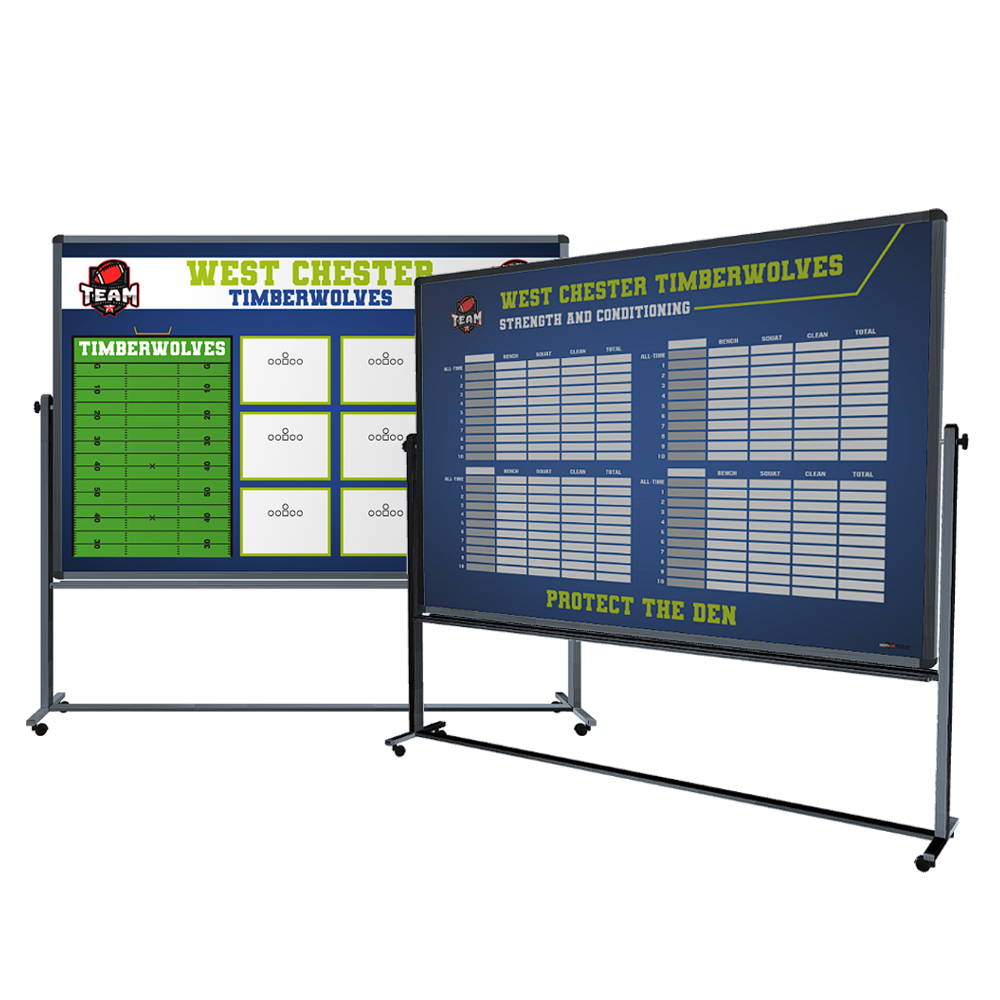 A custom mobile football dry erase board is a great solution for the locker room or even the court. When you want that bigger board to explain something to the entire team these large boards are just what you need. Both sides can be printed or you can have a completely blank side. Add a huge touch of professionalism and team spirit to your locker room or sideline with a custom soccer mobile dry erase board.
Custom Football Locker Room Coaching Board Configurations
ONE SIDE - Print Football fields on one side and leave the back side blank so it can be used by anyone on the blank side.
TWO SIDES - Choose whatever configuration of football designs you want on two sides.
Design Your Custom Football Board Online
Designing your custom football dry erase rolling board is easy with us! Just click the red Personalize Now button and follow the simple workflow. Choose your colors, add your text, and upload your logo. It's that easy.
Custom Football Locker Room Coaching Board Features
MAGNETIC 🧲- Magnetic surface allows you to add paper or posters to the boards so if you have something important for the team to see it will be right there when you need it.
TWO SIDES - Board flips easily so you can get right down to strategy on either side without having to erase one side.
BEST QUALITY - Our Coated Steel surface resists ghosting which means our boards will last a long time and still look brand new!
FRAMED 🖼- 1" Aluminum frame really adds to the look of the custom football board and everyone will want to know where you got it!
MOVE EASILY - Easy to move around with 4 casters and two of which are locking brakes.
STORAGE TRAY - Easily store multiple markers and erasers with the full length tray so you aren't scrambling to find a marker or eraser when you need it the most.
MORE SIZES - Custom sizes are available, please contact us for more information.
Custom Football Board Artwork
Please have the best possible artwork for your logo. We suggest a transparent PNG file that is very high quality. Your board will look better if there isn't a color background behind the logo so a transparent PNG is best.

Guaranteed to Last!
Your custom mobile rolling board is protected against ghosting for a lifetime.
Are Going to Flip It or Rotate It?
How are you going to use the other side of your custom football magnetic coaching board?
ROTATE IT - You can choose to rotate the board via the wheels 180 degrees to use the other side which means you have enough space in your locker room to rotate the board.
FLIP IT - To get to the other side you can simply flip the board to use the other side. You will need enough space from a wall to flip the board to the other side.
Why does this matter? We want you to be happy and make sure how you will use your board is considered before ordering. From a design perspective, if the board is going to be spun on the wheels, we will print both sides in the same orientation. If you are going to flip it, the second side will be printed upside down so when it's flipped it's right side up.
Just make your selection of Rotate or Flip in our design tool. We suggest you measure the area in your locker room where you plan to use your custom football magnetic rolling board to make sure it will fit just like you want before ordering.
Custom Football Rolling Board Sizes & Prices
These sizes and prices are in our design tool so please make your choice in the design tool.
Custom Football Locker Room Coaching Board Purchase Notes
PURCHASE ORDERS- We accept purchase orders from schools in the USA. If you require a quote before sending a purchase order, please email us at support@hoopsking.com with your items and shipping address.
SHIPPING - Rolling boards ship via freight truck to business addresses. Shipping will be invoiced after your order. If you'd like a shipping quote prior email us at support@hoopsking.com
DESIGNS - We can print anything you want on our rolling magnetic boards so if you have your own design or want something totally unrelated to sports let us know. We can help you out.
FINAL REVIEW - For all rolling boards we will send a final proof for you to confirm before printing and shipping.
ASSEMBLY- Download Assembly Instructions
CLEANING & CARE - Download Cleaning & Care Instructions
View All
Close