Blueprint to the Run & Jump Basketball Defense | PDF | Full & Half Court
SKU:

BKD-6500A
Frequently bought together:
Description
Win More Basketball Games w/ the Run & Jump Full Court Press Defense...The Press that is
Unpredictable

& Forces Opponents to Dribble the Basketball

Under Pressure

Learn all of the ins and out of the Run & Jump Full Court Press from College Coach Eddie Andrist
---
Special Message from Eddie Andrist...Keep Reading!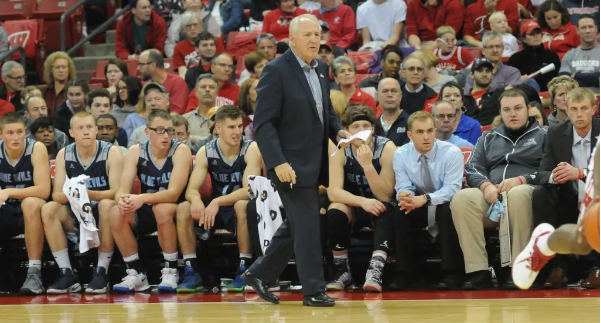 Here's a special message for every Basketball Coach who wants to shake things up and cause havoc for other teams.
Hi, my name is Coach Eddie Andrist and if you want to succeed with full court pressure basketball defense, then pay very close attention!
Many basketball coaches suffer from the idea that looking at diagrams or video clips on YouTube is enough to try to piece together a full court pressure system.
But nothing could be further from the truth.
And if you're a basketball coach who wants to win more games... then THIS is exactly what you're looking for.
I'd like to introduce you to "Blueprint to the Run & Jump Defense"
which helps you with how to install the Run & Jump Defense and gives you almost every single solution to offensive counters!
The Blueprint to the Run & Jump Defense makes it simple for you to:
Install the Run & Jump Defense...
Play an uptempo game...
Surprise opponents with an unpredictable press...
Force opponents to handle the basketball in the open court vs. tough pressure...
Give your players a defense that is fun to play...
... and much, MUCH more!
And what makes this even better?
Now you never have to worry about spending a lot of time trying to piece together videos and diagrams. Coach Eddie Andrist gives you his the complete Blueprint to installing and running the Full Court Run & Jump press.
Which also means you'll be on the fast track for installing the Run & Jump with your team. Coach Andrist knows what works after running the Run & Jump for over 30 years. You are going to get that 30 years worth of knowledge without all the trials and errors of trying to figure it out.
And best of all... you'll start seeing results with "Blueprint to the Run & Jump Defense" in your first games and it's available now at a big discount of only $67. 00! Your purchase will be an immediate download of the system so you can get started right away.
So again, if you're a basketball coach who wants to win more games, understand this:
Quickly become a full court pressure team...
Learn what works and doesn't from a Run & Jump coaching legend...
Win more games this season...
Give your fans a more exciting style of basketball that makes defense fun
The Blueprint to the Run & Jump Defense from Coach Eddie Andrist holds the key to your successfully installing and running the Run & Jump Full Court press. Order now!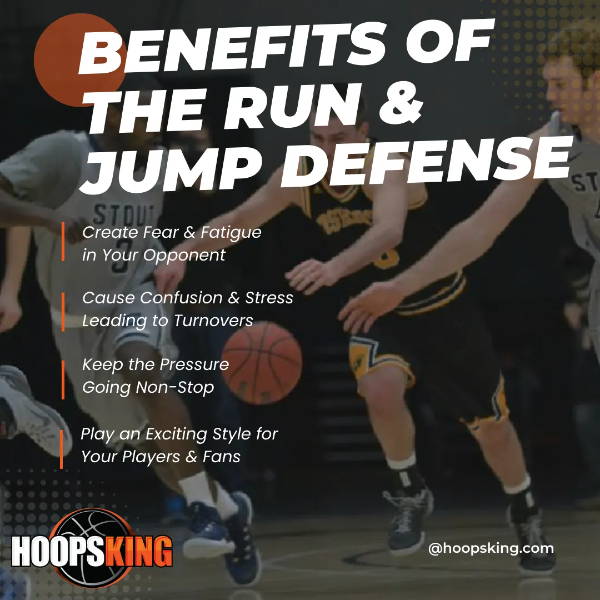 ---
I Understand That When I Act Now, I get an Instant Download to "Blueprint to the Run & Jump Defense", which includes:
THE BIG PICTURE - Overview of the Traps and positioning in the Run & Jump so you get a full understanding of the Run & Jump Defense
THE DETAILS - Breakdown Drills to teach the components of the Run & Jump so your players can practice the pieces of the Run & Jump and then put it all together
ROTATIONS - How to Make the Proper Rotations in the Run & Jump so your players are in the right spots to make plays
COMMON PRESS BREAK ALIGNMENTS - Coach Andrist will cover the various press breakers teams use to try to combat the Run & Jump - but you'll always be a step ahead because you'll know how to adjust to any press breaker alignment
CLEAR OUTS - Many teams will see the man to man press and just clear out. They think that will be an easy solution but it's just the beginning of the problems they will have as your team will be prepared for clear outs as well.
1/2 Court Traps - No time for your opponent to rest just because they got the ball across half court. Unleash the 1/2 Court traps and keep the pressure coming.
VIDEOS & PDF - You'll get over 2 hours of video from Coach Andrist teaching the Run & Jump press.


Whiteboard diagrams
On the Court Demonstrations
Game Footage
With Coach Andrist's Run & Jump Blueprint you will have everything you need to stay 1 step ahead of your opponents. You'll have it all covered!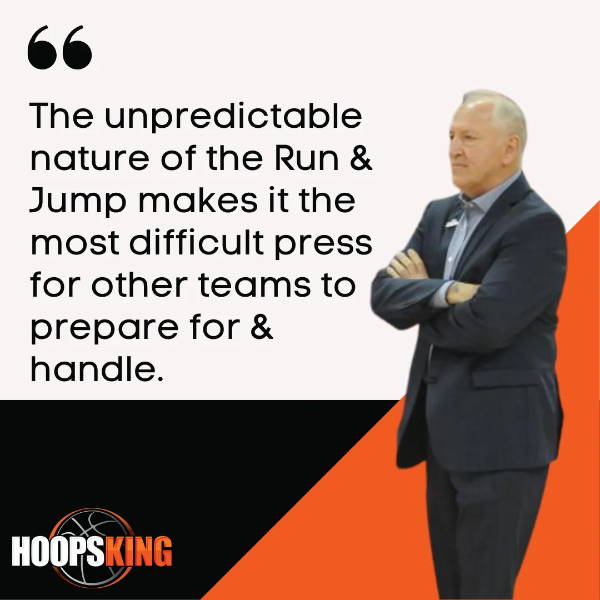 ---

2 Hours of video featuring Whiteboard diagrams, On the Court Demonstration, & Game Footage
The Drills you need to teach the Run & Jump Press Fast & Effectively
119 page PDF featuring diagrams, notes, & more!
How to Teach the Run & Jump press in 7 Practices or less (inside PDF)
---
Is the Run & Jump Defense a Man to Man or Zone Press?
The Run & Jump Defense is a full-court man-to-man pressure defense. Zone presses have players guard an area and match up with anyone in their area whereas the Run & Jump each defender has a player to guard instead of an area.
Why would I want to run the Run & Jump Defense?
The best thing about the Run & Jump Defense is that it's unpredictable where the traps will or can occur. Since it's a man-to-man press there are not really weak areas like with a zone press, so it makes it harder for the offense to pass the ball against the press. The Run & Jump Defense is better at taking away passes and forcing your opponent to put the ball on the floor and dribble it.
If this is a Man to Man Press, can't teams just clear out to beat the press?
Ah, yes the clear out. Just what you want every team to believe they can do to beat your full court Run & Jump. But, it's not as easy as just clearing out. Coach Andrist provides counters to just about anything any team will try (he's seen it all over the years) and that includes clearing out. Once a team clears out their ball handler will soon find themselves alone and in trouble.
Can youth teams run the Run & Jump Press?
You can run a very simplified Run & Jump doing the basic actions and still be very effective in causing disruption, confusion, and turnovers. Any team at any level should start with the basics and then adapt the press to their opponent to maximize the results.
View All
Close