Basketball Shooting Machines rebound makes and missed shots. These shot rebounders help players get up more shots in less time. Automated machines pass the basketball back to the player and can be programmed to throw the basketball to almost any spot on the floor. There are home shooting machines as well and these do not actually pass the ball back to you but use a chute system to return the basketball to you. The home versions of these basketball shooting machines can help you get up three times as many shots whereas the automated machines can help you get up ten times as many shots. These machines are the batting cages of basketball.
Many high schools and colleges own the automated machines as they are typically priced at $5,000 and up. There are two main companies that produce the automated basketball shooting machines - Dr. Dish Basketball and Shoot-A-Way.
But what if you can't get into the gym at school? Or your school can't afford the automated machine?That's where the Home Shooting Machines come in clutch because you can get a quality workout done at anytime. The main home shooting machine is iC3 Basketball Shot Trainer and it's becoming a must-have for every gym rat looking for more workouts when they leave the gym.
There are some machines that are being produced in China and these machines are in a similar price range as those made by USA based companies. We would suggest you stay away from any of the overseas producers because they have not been making the machines very long, won't be able to provide customer service, and have no proven track record.
iC3 Basketball Shot Trainer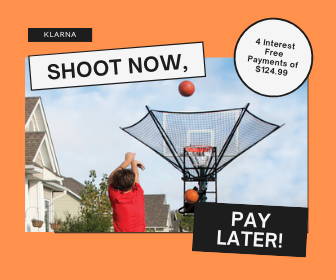 The iC3 Basketball Shot Trainer is a home based shot rebounder that is designed to be used in the driveway. The iC3 Shot Trainer can really give your child an advantage over their competition. The amount of extra shots that can be taken at home vs. having to always go to a gym can really set your child apart from others and help make them a special shooter.
Some schools and clubs have opted for the lower cost iC3 Shot Trainer which starts at $349.99 as many schools and clubs have to try to do fundraisers to pay for the more expensive machines. The net system of the iC3 is just as good as the net system of the more expensive machines. To use the iC3 Shot Trainer in a gym you just need to make sure the backboard is 60" or more as you won't be able to use the telescoping pole. A 60" backboard in a gym is usually the smallest you find as most indoor backboards are 72".
The iC3 Basketball Shot Trainer sends the ball back to a player via a chute attached to the unit. The ball will bounce back to the player. Another option if you have a parent or coach is to have them stand at the bottom of the chute and grab the basketball and pass it back out to the players. Using a person for the "machine" part of the iC3 works very well as no one has to chase any basketballs and a person can actually throw basketballs out faster than the automated machines can to different spots on the court. The iC3 rebounder is perfect for team shooting drills or small groups in addition to individual shooting workouts. You can do any team drill with the iC3 that you could do with the automated machines.
What Coach Chris Thinks of the iC3
I started using the original iC3 and then on to the iC3 that we have now with my kids. It was such a great investment in their game and it saved me a lot of time chasing basketballs as I often rebounded for them.
We used the iC3 util we upgraded to a Dr. Dish but we still get the iC3 rebounder out from time to time. The iC3 was a great benefit especially to my daughter as she ended up earning a college scholarship to play basketball and we must have gotten up hundreds of thousands of shots every year on the unit.
How Does the iC3 Shot Trainer Hold Up Outside?
The iC3 holds up very well to rain, snow, sleet, wind, and the sun. It is very well made but if you live somewhere where the conditions may be harsh and you won't be using the iC3 you should put it inside if possible. Would you leave your car outside in the elements if you have a garage? Probably not long term but our point is take care of it and it will last a very long time - probably longer than your children will play basketball.
Learn More about the iC3 Shot Trainer
Dr. Dish Basketball Shooting Machines
Dr. Dish Away is an automated shooting machine leading the way in changing players and coaches approach to improving their basketball game. This shooting machine is designed to be used indoors as you'll see it in many high school and college gyms across the country.
Dr. Dish Basketball makes three difffent automated machines: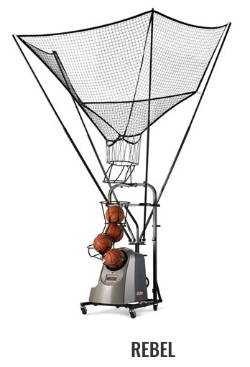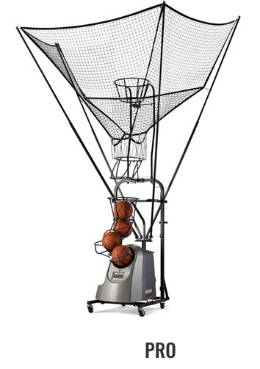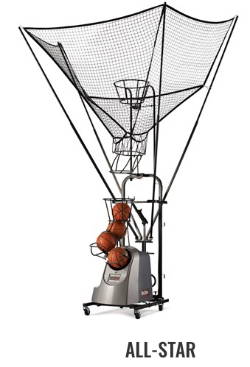 Dr. Dish Model Comparison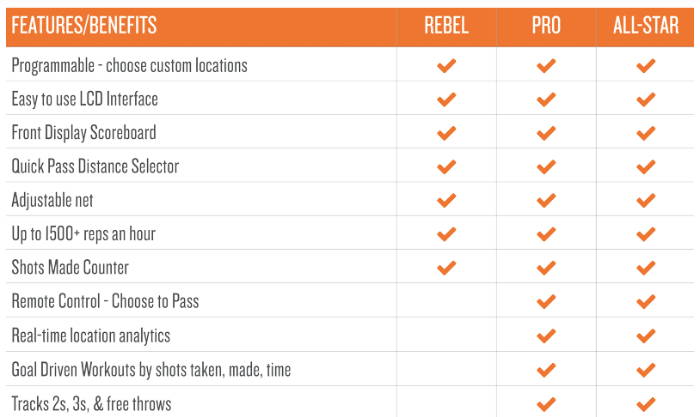 How is Dr. Dish Different from Competitors?
Dr. Dish is the only shooting machine designed with a complete training management system known as Skill Builder.
This training management system in the Dr. Dish Pro and All-Star machines allows coaches and players to instantly view, upload, and analyze shooting drills.
You can create complete training programs within minutes to accelerate skill development then push the program directly from your Dr. Dish app to the machine and get to work.
You can even take it a step further with Dr. Dish All-Star and work on game scenario training.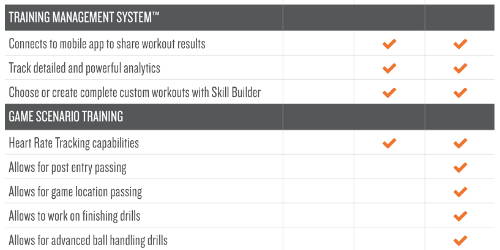 Dr. Dish Basketball Shooting Machines gives you 3 different models to choose from depending on what you're needing for your training. Each model offers automatic passing to your customized location along with a front display scoreboard to show your shots made counter.
Dr. Dish REBEL. If you're looking for a basic, cost-effective shooting machine then look no further than Dr. Dish Rebel. It gives you the basics of what makes a shooting machine a shooting machine - it passes you the basketball and it counts your shots.
Dr. Dish PRO. If you're ready for the next level and want to use it for specific training then Dr. Dish Pro is your go-to. Not only does it give you the basics but it includes the Dr. Dish technology for training management so you can set up workouts via your phone then send them to your machine. You get detailed results and analytics from your custom work-out and you can even track your heart rate.
Dr. Dish All-Star. If you're wanting even more from your work-out then Dr. Dish All-Star is that machine you need. Everything you already read is included with your machine but it goes above and beyond. You're getting a machine that offers the most game like scenarios so you can catch a pass anywhere including in the post! You can also work on finishing
Learn More about Dr. Dish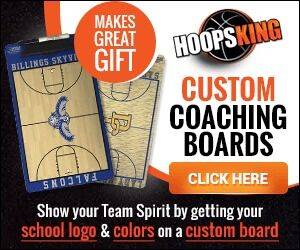 Shoot-A-Way Shooting Machine
Shoot-A-Way produces various shooting machines as well. Their product line is referred to as the Gun.
Much like Dr. Dish, Shoot-A-Way is an automated shooting machine that acts as an automatic rebounder, instantly rebounding a made or missed shot and giving a direct return pass for another shot.
But it hasn't always been an automatic passer. In the early days, Shoot-A-Way instead used a track to return basketballs to shooters.
The Original Shoot-A-Way considers itself the original shooting machine. You set up shooting stations and positioned tracks accordingly - if you wanted to move shooting spots then you simply rotated the tracks.
Obviously the iC3 has taken the home shooting machine to an affordable place and something that will fit in your garage easily.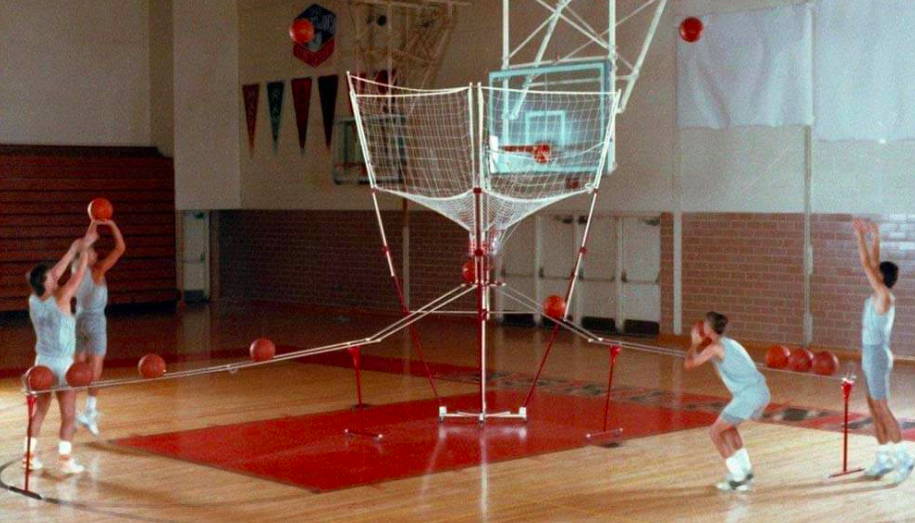 This picture shows the Original Shoot-A-Way complete with tracks used to return the balls. This is how basketball players use to train in the past but the shooting machine has come a long way. Shoot-A-Way created The Gun which is their main shooting machine series. The Gun comes in three models: The Gun 6000, The Gun 8000, and The Gun 10K.
The Gun Rebounding Machine Series
The Gun 6000 was the first of the Gun Series. It's your basic rebound and automatic pass shooting machine system. It has a timing device so you can determine the distance and the speed of your return passes and can fire up to 1800 shots per hour. The Gun 6000 has an optional computerized scoreboard that counts and displays makes, total shots and shooting percentage.
Then came The Gun 8000 which keeps the foundation of the Gun Series but adds more advanced features such as being able to select passing locations, amount of time between passes, and a printing system to print of a receipt of your work out statistics.
Finally, the most recent, The Gun 10K, is newest basketball shooting machine out on the market. Not only do you get all the features from the previous models in the series, but you get real time analytics, mobile app for your smart phone, an app for coaches to monitor their players shooting percentage and progress along with a touch screen and much much more.
Check out this video to see exactly what's new with The Gun 10K.
Learn More about Shoot-A-Way
Why Coach Chris Choose Dr. Dish All-Star Over the Gun Series
We upgraded from an iC3 Rebounder to the Dr. Dish All-Star because of the innovations Dr. Dish incorporated with their new series. The ability to use the Dr. Dish app to keep track of workouts was a huge thing to me. I train players and allow players to come into the gym and do shooting workouts. So I add players to our "Team" on the app and send them workouts I want them to do.
Other options we couldn't pass up was the ability to create our own drills within the app. I had specific drills I wanted my daughter to work on so we built workouts specifically for her to do - and tracked all of the shots she took over the summers. She still plays today and is able to take the app on her phone and use her college's Dr. Dish to do workouts and continue to track her workouts.
We also take the Dr. Dish All-Star away from the basket and I often use it as a passer when working with a player. I have the players fill up, come off screen, or any offensive action where they are coming to the basketball. We then go one on one from there and this allows me as a trainer to have the Dr. Dish to make a realistic pass to the player.
Maybe not so basketball related but we really love the built in speaker as the players really love to put their favorite music on during workouts. It allows the to get into a good mood and feel good which is important in shooting. Learn to be relaxed and get into a rhythm.
What about Chinese Sellers?
There are now factories in China selling basketball rebounding machines directly to the consumer. This increases the competition for USA based basketball shooting machines but isn't all it's cracked up to be.
Price of Basketball Rebounding Machine - The price of the rebounding machines coming directly out of China are about the same price you will pay as buying from a company in the USA. So you aren't going to save much if anything buy buying straight from China.
Features of the Rebounding Machines -
Quality of Shooting Machines - This is where you are taking a chance. These machines don't have an established history and often times the Chinese factories will cut corners to try to increase profits.
Customer Service - This is another area you will definetly come out of the short end of the stick. Language barriers aside, a factory in China is about selling as many units as they can and customer service is not going to be a priority. When parts need replace or you have other issues, you aren't going to be able to pick up the phone and ask for assistance. You will be left going back and forth via email.
Grind Basketball Shooting Machine Review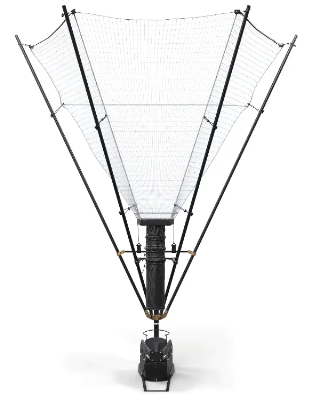 The Grind Basketball Shooting machine bills itself as the world's first portable rebounder. It is pretty cool. It folds up and you can wheel it where you need to take it so if you aren't shooting at home you can load it into a car and take it to a park or gym. The Grind basketball machine's price is currently at $1995 which is double what is was when it first came out (sub $1000). This puts it in more competition with the Dr. Dish Home machine which is around $3500.
One thing we notice about the Grind rebounder is that it doesn't throw the ball out to the 3 point line. So if you are wanting to shoot 3 pointers and get the ball where you need it to be on the catch, this machine may come up short for you. Dish and the Gun can easily throw passes well beyond the 3 point line. Another shortcoming of the Grind rebounder is that you can only pass to one spot and must manually change it. This isn't the end of the world for most people but just something it doesn't do that other more expensive machines will.
So the Grind rebounder is competitively priced for it's features vs. the competition.
Basketball Shooting Machine Summary
Every coach and player agree that adding a basketball shooting machine to a workout is a game-changer and vital to accelerating development. The number of increased repetitions a team can get when utilizing a shooting machine is undeniably very valuable. You'll be able to see results quickly through players' performances on the court.
But the main question is what shooting machine is for you? We've given you 3 well-known companies for you to consider when trying to make this decision. Each shooting machine will make a big impact by simply allowing players to get up more shots than ever before.
Whatever you're looking for when it comes to a shot rebounder - you'll be able to find it between the iC3 Shot Trainer, Grind, Dr. Dish, or Shoot-A-Way's The Gun.

Recent Posts
If we try to analyze the basketball from the pure athletic standpoint, the conclusion that …

Installing an in-ground basketball hoop is a great investment for parents of young basketba …

In this analysis of Tyrese Maxey's training habits, we'll look at the factors that have led …