Move, move, move, Coach Chris like to say to his players!
If your players are not moving, then they are in the way. Without the movement, defense can take a good position to defend the basket. Coach C teaches that you can stand in one place for 3 seconds. After that, you are in a way.
How many times have you watched a game where players are passive, not moving, not opening a passing lane, not cutting, not making a screen. If players move, they will give their team - mates another option.
If we want to teach our players how to cut, we really need to teach them how to watch their defenders and act in a right moments. How?
lets analyze these two actions.
First, we will start with LeBron cutting on KD, and the other one will go another way around.
In this first picture we have a situation where Kevin Love is on the wing with the ball looking at R.J. who is trying to get open off of JaVale. LeBron is on the point, guarded by KD who is making two big mistakes. First mistake is his position in defense, witch is overstated, and the second mistake is that he is watching just the ball with no sight of the player that he is guarding.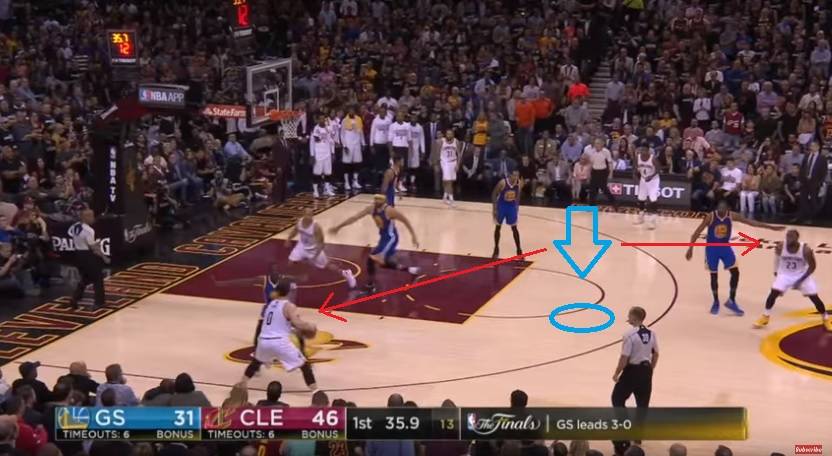 Blue markings are the spot where KD needs to be if he wants to play the defense the right way, and red lines show us that he needs to see the ball first, and his man (LBJ) with his peripheral sight. In every time we can argue if the leg or the hand should be on the passing lane, but that is a story for another blog post.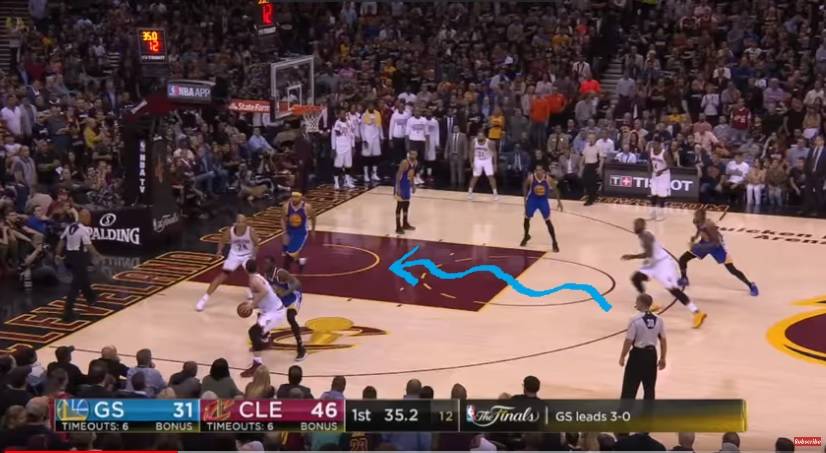 LeBron recognized the situation and made a cut to the heart of the paint. Read and React basketball.
In this next situation that Coach Chris wanted to break down, KD got the best of James. Golden State Warriors offense is all about movement and passing and "what can I do to put you in a better position". In this case, we have Draymond at the 45 angle spot, and we have a screen coming for KD on a passive side of the action. KD saw that LeBron tends to "read" the offensive set, that he is focused on screen coming towards him and the ball at the same time, and not on his man. If you look close, KD was waiting for LeBron to come in a level with the passing lane. In this moment defender CAN NOT SEE both ball and his man, and he has to chose. KD saw that LeBron is just looking at the ball and made a Cut for a basket. Another fine example of Read and React basketball.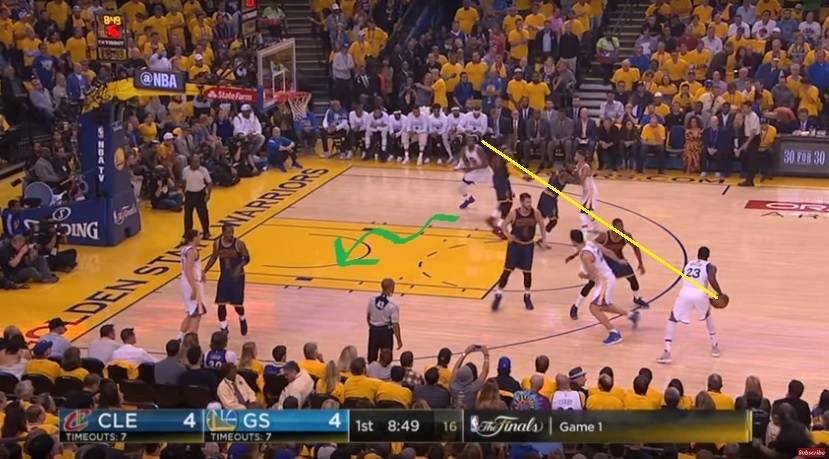 Let us see the whole video.
If you want to learn more of Cut and Motion basketball offense, you can chose to learn from Chris Hungerford, Dave Leitao, Steve Alford, Jeff Van Gundy, and many many more. Click on the link below and become a better coach Now: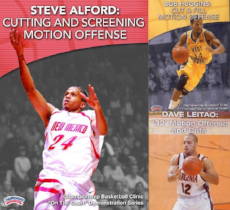 Recent Posts
5-Out Motion Offense You have a small team with no big post …

A zone defense can be exactly what a team needs to neutralize their opponen …

A weighted vest is a type of fitness equipment that can enhance the intensity of your worko …