There are many basketball defenses to choose from when it comes to deciding your defensive approach for a game. Factors such as personnel, opponent, and game time situations play a big role in what may be the best option for your team.
Our Basketball Defenses Guide will help you learn everything you need to know about defensive strategy and give you DVDs to rent as more tools to becoming a defensive expert. By the time you finish reading, you'll have your defensive game plan ready to go.
The man-to-man defense involves all 5 defensive players on the court being assigned one opposition player who they're responsible for defending whenever they're on defense. Players are often matched up by position, ability, or size.
Of course, there will be times when players switch opponents or help each other on defense, but for the most part, each player is responsible for one player from the opposition. Your main goal in Man Defense is to guard and defend your assigned opponent.
There are many different ways to run your man-to-man defense depending on the team you're playing against and what the strengths and weaknesses of your team are but here's 3 common approaches to Man Defense: Tight, Loose, or Switching Man-to-Man.
Read more about specific man-to-man defenses below:
Tight Man-to-Man Defense

Loose Man-to-Man Defense (or Sagging Man-to-Man)

Switching Man-to-Man Defense
Learn more about Man-to-Man Defenses by checking out our rental Man Defense DVDs.
The defensive strategy of a Zone Defense has players guarding a specific area instead of player like in a Man-to-Man Defense. An advantage to Zone Defenses are they're easy to teach and learn along with your team not needing a lot of athleticism or quickness to execute.
The basic procedure in a Zone Defense is to have defenders pick up opponents when they enter their designated area. Once they leave their area, the defenders hang back and continue guarding their area rather than following the player. When the player enters a different area of the court, the next defender picks them up depending on whose designated area it is.
Zone Defenses are broken down by their alignments, which are normally labeled by numbers.

Combination Defenses are considered hybrids of a Man and Zone Defense. In a Combination Defense, you combine elements such as Man-to-Man Defense when you're guarding the ball and Zone Defense when you're away from the ball.
Most Combo Defenses are used when your opponent has a star player you want to stop, you want to shift the momentum with a new defensive look, or try to create more turnovers by throwing a type of defense the offense rarely sees.
Many coaches don't use these defenses as their go-to strategy to stopping their opponent but they're great defenses to practice and have ready in your defensive arsenal.
Read more about specific zone defenses below:
When you're ready to pick up the intensity with your defense then consider adding a Press Defense to your game strategy. You can keep your opponents off balance by adding a full-court or half-court Press Defense. A Press Defense can vary depending on personnel and game situations but having a press game plan in your game strategy is important.
Depending on the circumstances a strong Press Defense can change the pace of a game or be a surprise tactic against your opponent. It can also lead to creating turnovers and steals which may lead to buckets for your team.
Read more about specific press defenses below:
If you want to learn more about Press Defenses we suggest you check out our huge selection of rental DVDs.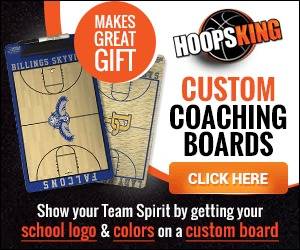 Recent Posts
If we try to analyze the basketball from the pure athletic standpoint, the conclusion that …

Installing an in-ground basketball hoop is a great investment for parents of young basketba …

In this analysis of Tyrese Maxey's training habits, we'll look at the factors that have led …